Road Cycling the Blue Ridge High Country
|
home


About the Book

Road Cycling the Blue Ridge High Country
is a
critically acclaimed
collection of more than two dozen bicycling routes set in the mountains and foothills of the Blue Ridge. It's the only guide devoted exclusively to road cycling in one of America's cycling hot spots, the Blue Ridge High Country.
The routes range from short "leg stretchers" appropriate for famiies and casual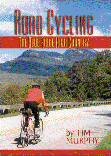 riders to longer, more difficult rides with climbs that have challenged the world's best bike racers.

The book features a variety of routes at varying elevations, including some lower elevation routes closer to the major metro areas of the piedmont.

Terrain on the routes ranges from pancake flat to wall-like.

Several routes trace the tracks traveled by the world's top bicycle racers during the Tour DuPont.

Ride profiles incorporate the history, culture and ecology of the Blue Ridge High Country.
Read Road Cycling the Blue Ridge High Country and learn the answers to these burning questions:

What High Country summit left Lance Armstrong "a changed man" after a training ride there in 1998?

Where's the flattest, family friendliest road cycling route in the Blue Ridge High Country?

Where can you ride to Canada without leaving the South?

Where can you sample the beverage that's replacing moonshine in the High Country's "bootlegger belt"?

What corner of the High Country has cranberry bogs and possibly the world's shortest tunnel, a 14-foot-long passage you can ride through?

What High Country general store hosts free jam sessions every Friday night?

Where are the wickedest climbs in the High Country?

Where in the High Country can you fill your water bottles from a spring with reputed healing powers?

What High Country road cycling route is "the closest you'll come to a mountain hike on a road bike"?

Where in the High Country can you see frescoes, art works produced by the ancient method of applying mineral pigments to wet plaster?

What others are saying
about Road Cycling the Blue Ridge High Country
"This smallish, easy-to-fit-in-your-pack volume is a fantastic guide to riding in the Blue Ridge High Country, including myriad tips on roadside attractions, guides to each suggested ride rated by difficulty, scenery, etc. If mountain biking is your thing, this one's a must."
-Creative Loafing, Charlotte, N.C.
"The Blue Ridge provides some of the finest road cycling in the United States, and the 26 rides described in this volume constitute the best the High Country has to offer. Any serious cyclist should own a copy."
-Al Stewart, Our State magazine
"Tim Murphy has taken a lot of the guesswork out of high altitude rambles with this guide...Guaranteed to leave you short of breath and cramping just thumbing through it."
-Joe Miller, The News and Observer, Raleigh, N.C.
"Like all good guidebooks, Road Cycling the Blue Ridge High Country succeeds both as a handy reference tool and as a good read."
-Morgan Simmons, The Knoxville (Tn.) News-Sentinel
"Everything a rider needs to know before heading out. Ride descriptions include length, difficulty and scenery descriptions. Maps are straightforward and easy to understand."
-Mark Taylor, The Roanoke (Va.) Times
"Whether a given route is suitable for weekend and family cycling or for the seasoned athlete, Murphy's book inspires you to get out there and do it."
-Margaret Williams, Mountain X-Press, Asheville, N.C.
"A small paperback that can slip into a backpack easily, Road Cycling the Blue Ridge High Country is jam packed with difficulty-rated rides, maps, Tim's photos of fellow cyclists, cues, precise directions, information about road characteristics, elevation profiles, and lists of food, services and outdoor options along the route to make your ride successful."
-Yadkin Valley Living magazine
"This is THE guide for some of the most beautiful road cycling in the United States. My husband and I have spent hundreds of hours enjoying the North Carolina high country thanks to this book. Additionally, the author's website gives timely updates on road conditions and closures for the rides in the book (bridge replacements, etc.). You don't need to go to Europe to enjoy world-class cycling when you can ride along the top of the Blue Ridge! I should also mention that the national collegiate champions are from the area and we see many pro teams train here, so you won't be alone on the roads and most locals are very respectful of cyclists. A favorite local restaurant in Blowing Rock keeps a bike pump by the door. If you're a real roadie and climbing doesn't scare you, you won't regret spending time in the high country! "
-Amazon.com Reviewer
"I purchased this book to provide ideas in creating my 4th week long tour of the Blue Ridge Mountains. I was seeking routes near the Blue Ridge Parkway that were a combination of stiff climbs and gentle rides in the valleys. The book includes many rides in each category that can be connected to create a challenging and scenic 60 to 70 mile riding day. I've cycled some of the roads in previous tours and have recently driven some other ones and found the book to be quite accurate regarding pavement conditions, challenge and scenery. I highly recommend the book to any cyclists who desire to ride off the beaten path of the Parkway, but still have access to it."
-Amazon.com Reviewer
"I live in the area this book covers, and was curious to see if the book was a good overview of this area's riding. I highly recommend this book to anyone trying to quickly discover some of the road ride gems in the NC High Country. A great, and more efficient, alternative to asking at bikes shops or lurking on local internet biking forums."
-Amazon.com Reviewer
"I used your book to plan my road cycling in the High Country this past June 2005. I rode nine of the rides and fournd them to be exactly as represented in your book. The scenery and the road conditions were outstanding, and I was very impressed. Thank you for such a great book."
-W.P., Ohio
"The book is excellent, really. With that little bible you have saved me some major preparation time.
Before I head out in the great wide open I usually do a reconnaissance drive (with my car) mapping the interesting and dangerous spots, estimating the climbs and checking for any other useful info. You have done that for me. Excellent !"
-L.S., Georgia